Commuting in Traffic presented to Breakthrough.tv and Deputy Mayor of New York City
Yesterday afternoon we held a lunch meeting at JumpThru office with some of New York City's luminaries, leaders in human rights advocacy, and the core developers from Hamptons Hackathon for Humanity (also Girl Develop It).


Deborah Jackson, JumpThru Founder and CEO, kicked off the meeting by explaining JumpThru's mission to support women technology entrepreneurs achieve success.


Izzy Johnston and Sara Chipps presented Commuting In Traffic and explained the thought process behind creating an interactive online game that educates the public about human trafficking issues in New York City. Carol Robles-Roman, Deputy Mayor and Legal Counsel to Mayor of New York City, (pictured in the center) thought the personal narratives presented throughout the game gave it great emotional impact.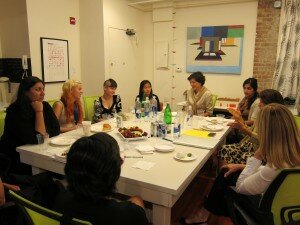 Diana Taylor, Managing Director of Wolfensohn Fund Management, (pictured at the head of the table) kindly introduced our team to Carol Robles-Roman and Breakthrough.tv, a global human rights organization that uses the power of media, pop culture, and community mobilization to inspire people to take bold action for dignity, equality, and justice.


Mallika Dutt, President and CEO of Breakthrough.tv, gave us valuable feedback on ways to improve the game and to develop a dissemination campaign for Commuting in Traffic.